In order to know the effects of Depak, the mechanism of food deterioration should be well informed
There are following three major reasons of food deterioration, and they progress at the same time.
1. Oxidation of fat content 2. Deterioration of protein 3. Bacterial growth
It has proven that Depak is effective in all three reasons. This is an epochal preservation way.

Comparison of deterioration between ordinary fryers and Depak fryers
Usual process of deterioration
1. Oxidation of fat content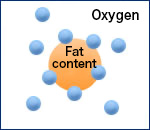 Fat content gets oxidized by connecting with oxygen in the atmosphere. Moisture in food as well causes oxidation of fat content.
2. Deterioration of protein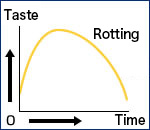 Though protein changes its quality gradually, it becomes most nutritious and flavorful and full of taste at the fourth stage (maturation). After then, it degrades itself as being spoiled with odor.
3.Bacteria growth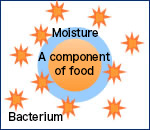 At 3 degrees Celsius and above, bacteria proliferate with absorbing food nutrition and expedites food spoilage.
With Depak system (high voltage electrostatic induction)
1.Oxidation of fat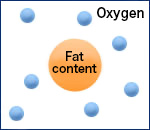 As moisture content in the food and in the air are deoxidized (reduction of electrical potential and becoming weak alkali), it becomes difficult to link fat content and oxygen and suppresses oxidation.
2.Deterioration of protein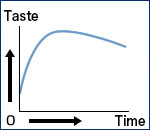 By the suppression of bacteria by preservation at the degree below zero and of oxidation, deterioration and spoilage are made slow.
3.Proliferation of bacteria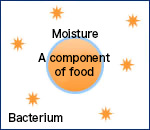 High voltage application suppresses bacterial growth and so is the preservation at the degree below zero.
Compare and Observes changes with Depak refrigerator over time
Cut beef fillet (vacuum pack) into two halves.

*This examination of viable bacteria was conducted by Kobe city environmental health laboratory.