Features of Depak Freshness Keeping and Thawing Machine
Thawing the food with electric energy by high voltage electrostatic induction generated by Depak, the followings are of advantages.
By reduction of oxidation, discoloration is suppressed.
Increase of unwanted bacteria is suppressed.
Food loss is reduced and Food yield rate is improved.
Furthermore,
As the mode switches automatically to Freshness Keeping mode after thawing, there is no trouble of moving food to a refrigerator from a thawing machine and the efficiency improves.
Tons of advantages are made available as mentioned above.
Providing Delectable and Safe Food
Thawing food without discoloration and protecting food from oxidation and deterioration make possible.
By fewer drips, food can be preserved over a week without bacterial growth.
The process and conditions of the bacteria test

Cut a block of frozen beef loin in half.
One is thawed by Depak and the other by an ordinary one. Both are thawed at -3°C under same circumstance.
After preservation for 16 hours, both are preserved for 12 hours under the circumstance (30°C), where bacteria increases easily.
Conduct the test that shows the viable counts.
Contribution to Improvement of Food Yield
Amount of food loss due to drips before and after introduction of Depak when thawing chicken were compared for a year. After the introduction of Depak, food loss was decreased by about 5.5% in a year. Provided that 300 tons food are thawed in a year, food loss that corresponds to 5,810,000 yen reduced in a year. (350 yen per 1kg)
The monthly amount of thawed food

Improvement of work efficiency
With ordinary defrosters, the food should be transferred to storage after thawing.
On the other hand, Depak thawing machines change its Thawing mode to Freshness Keeping mode automatically when food are thawed to a preset temperature. Thus, food transferring is not needed.
Just by putting the food to be used the next day in a Depak thawing machine, the food will be made ready the next day at optimum temperature in the Depak thawing machine.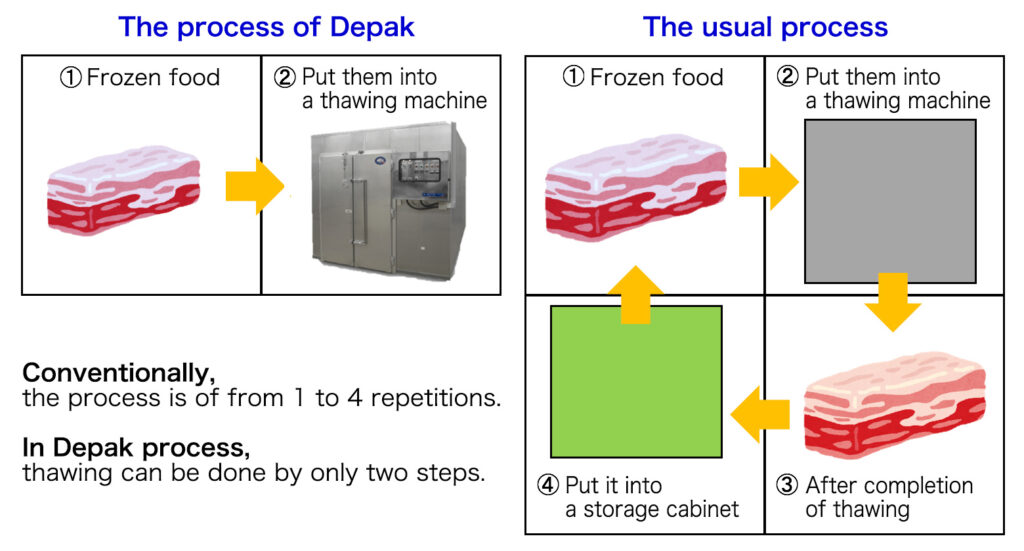 An example of three-way satisfaction by Depak
As Depak is being introduced, a certain major meat packing company has since been achieving cost-cutting and quality improvement for lunch boxes of convenience stores. Contributing to deliver delectable and safe food to customers is made possible.
Three-way satisfaction beget. "All the buyers, sellers and customers are satisfied."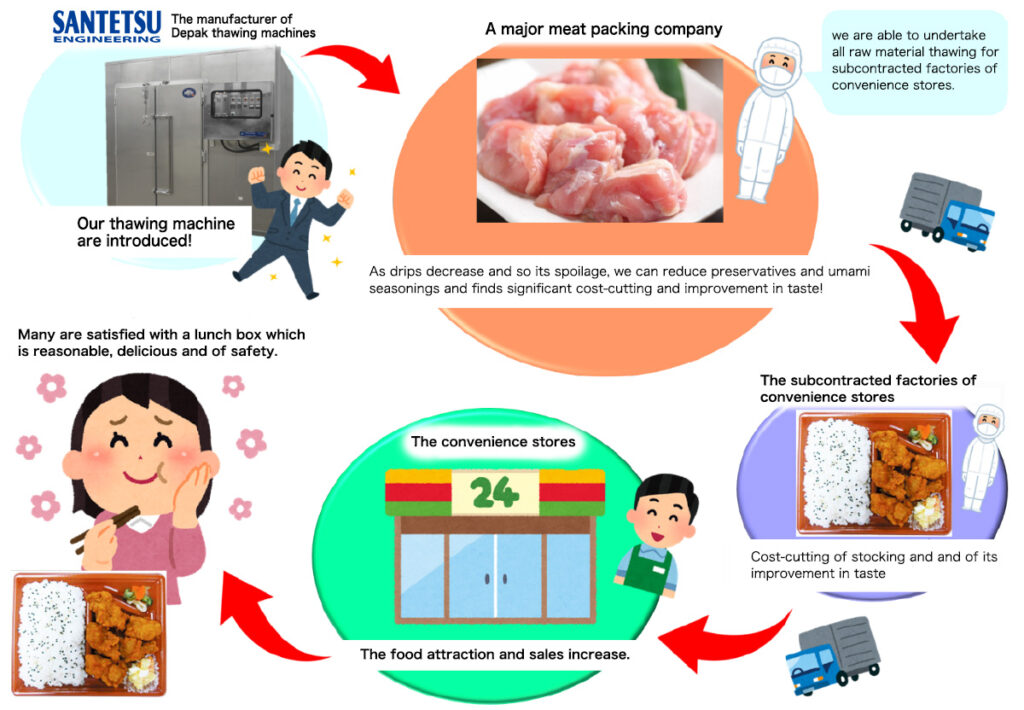 Comparison of the performances among the thawing methods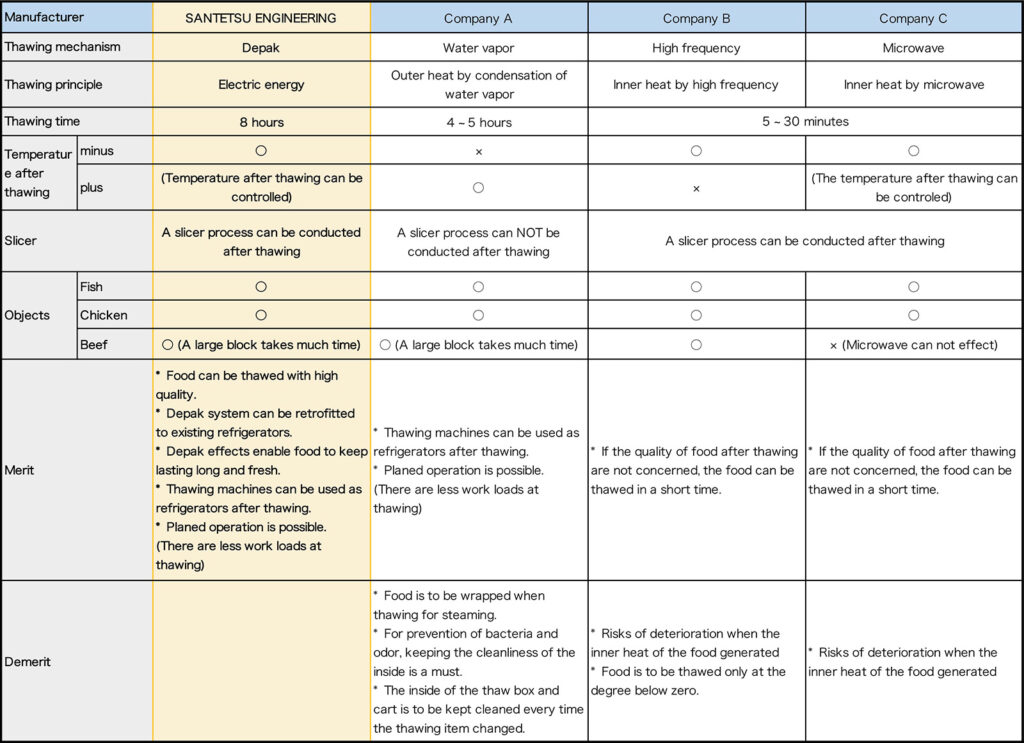 Commercial refrigerator type

Depak Freshness Keeping and Thawing Machine (H series) [Commercial refrigerators type]
Type
SE-DEPAK
H500
SE-DEPAK
H1000
SE-DEPAK
H1300
SE-DEPAK
H1600
Capacity
491L
1042L
1332L
1616L
Width
625
1200
1500
1800
Depth
800
800
800
800
Height
1890
1890
1890
1890
Processing amount
60kg
120kg
160kg
180kg
Power source
AC single-phase100V/15A
AC three-phase 200V/20A
AC three-phase 200V/20A
AC three-phase 200V/20A
Price (tax excluded)
Open price
Open price
Open price
Open price
*The contents of above lists are subject to change as necessary. Thank you for your understanding.
Large refrigerator type

Depak Freshness Keeping and Thawing Machine (H series) [Large refrigerator type]
SE-DEPAK
Type
The number
Reference size (mm)
Width x Depth x Height
The number of interior carts
Reference processing amount
(In the case of 2 kg chicken blocks)
Price
Delivery date
PH0.5
1
W1400×D1500×H2600
1
240kg
Open price
60days
PH1.0
1
W2300×D1500×H2600
2
480kg
Open price
60days
PH1.5
1
W2300×D2500×H2600
4
960kg
Open price
60days
PH2.0
1
W2300×D3500×H2600
6
1440kg
Open price
60days
PH3.0
1
W2300×D4500×H2600
8
1920kg
Open price
60days
PH4.0
1
W2300×D6500×H2600
12
2880kg
Open price
60days
In the case of large refrigerator type, we estimate their price each time.
Processing amount is calculated, supposing that carts are of caster type.
(Standard cart size:W1000×D670×H1760 Two one-stage trays ×15 stage)
*The pitch and size of carts are made alterable for all sorts of food materials. (Option)
Power source is for three-phase 200V.
The contents of above lists are subject to change without prior notice.